September 14th, 2017
MyKpopHuntress
Full setlist is included at the end of post
A multinational boy group of 13 members from South Korea, Seventeen, had recently landed in Stadium Negara, Kuala Lumpur for their 1st World Tour 'DIAMOND EDGE' on 9th September, Saturday, a week after their New York stop. Dubbed as a 'self-producing' group, Seventeen who debuted only in 2015 has been receiving a lot of interest and rapidly growing popularity, proven by the 3 days of sold-out concert for its world tour which kick started in Jamsil Auxiliary Stadium, Seoul with 30,000 attendees.
Brought to you by IME Asia, the DIAMOND EDGE pre-sale for the Malaysia stop had seen most zones sold-out. On the concert day itself, avid fans (also known as 'Carat') were queuing patiently, rain or shine, coloring the venue Rose Quartz and Blue Serenity, the official color for Seventeen.
Doors opened at 5PM and the show started at 7:30PM with an energetic, broadway-like show. The boys started with ' Pretty U', 'Beautiful', 'Aju, Nice!' and 'Still Lonely'. Seventeen appeared clad in colorful, bejewelled suits and greeted fans with bits of Bahasa like 'Apa Khabar' and 'Tuan-tuan dan Puan-puan'. They noted how hot Malaysia was as they had been sweating right from the get-go even though it had been raining, and relayed their gratitude to fans who had been waiting outside for them. During this segment, Hoshi also taught fans to do a special Diamond Edge clap as he called it.
After a very brief break, Performance Team (Hoshi, Jun, The8, Dino) took over the stage for 'Swimming Fool' before the stage was changed to a classroom setting. The theme of refreshing youth was in line with their hard-hitting song, 'Mansae', inviting fans to call out 'mansae' (Hurrah!) together. Once the song ended, they immediately got in position for 'Boom Boom'! Their hard-to-miss position spotting was an impressive show of impeccable discipline.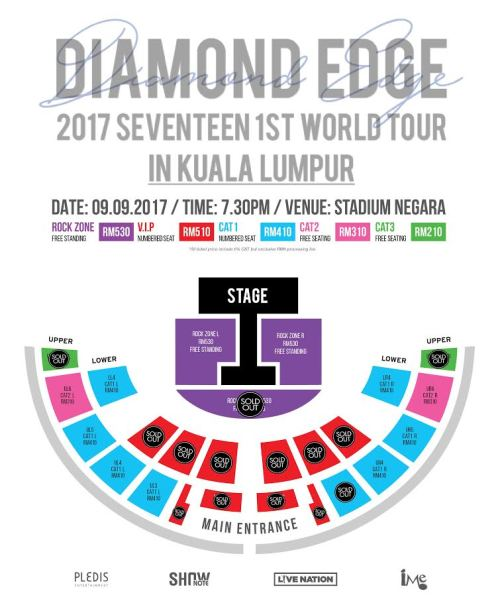 In the middle of the show, Hoshi and Vernon hosted a game of high note battle together with fans. Vernon lost and danced to DJ Khaled's "I'm The One", fans chanted for Hoshi to sing but he informed that the next stage are ready to go. Up next was the Vocal Team (Woozi, Joshua, Jeonghan, DK, Seungkwan) stage and they completely changed the whole venue to a much somber mood, presenting 'Make It Shine' and 'Don't Listen In Secret', captivating audience with slow-tempo melody.
The stage was on reset mode with lights dimmed, when the Hip Hop Team (Wonwoo, S.Coups, Mingyu, Vernon) went off with 'Check-In', shouting out "Kuala Lumpur!" before starting the performance. They completely set the stage on fire with 'Un Haeng Il Chi', where everyone was losing themselves in the music.
Lighting the stage red, the Performance Team came back again, wowing audience with the energetic 'Highlight' and continued to thrill with 'OMG', ensuring a continuous adrenaline rush. A truly heart-stopping experience, just by watching their harmonious dance alone.
The whole stadium was lit up red when welcoming Seventeen as a whole again. This time, the boys donned red silk shirts and black pants, a combination of prince and romeo vibes blending perfectly as accompaniment to the very sensuous 'Crazy In Love' performance. Then Hoshi and Jun put on a beautiful show at the very front of the stage, performing a dramatic dance with 'MY I' pulling each other with bands. Minutes afterwards, Hip Hop Team was back on the main stage, drowning us all in the R&B feels of 'If I'. The baton was passed on to the Vocal Team next, where they performed the tear-inducing 'Habit', with what felt like a confession from deep within.
Seventeen greeted Carat again on stage, before performing 'Chuck' and 'Rock' then announcing their very last stage with their latest hit song, 'Don't Wanna Cry', where the loudest screams and clapping could be heard. The group said good bye, teasing fans, before they were served with VCRs of each members' video letter for fans.
Seventeen, in their official color tees, had a bonding session with fans where they shared some thoughts, sitting down on the stage, casually speaking. The true final stage had everyone swaying to 'Shining Diamond' and 'Healing', delighting fans with their free-talking and casual interactions.
The show ended by 9:30PM with Seventeen asking fans to stay safe en route to home. The group photo session then took place right after the reluctant good-byes.
MyKpopHuntress would like to thank IME Asia for having us at the Seventeen 1st World Tour 'DIAMOND EDGE' in Kuala Lumpur.
DIAMOND EDGE in Kuala Lumpur Setlist
Greetings
Pretty U
Beautiful
Aju, Nice!
Still Lonely
Performed by Hoshi, Jun, The8 & DK
Swimming Fool
Mansae
Boom Boom
Vocal Team
Make It Shine
Dont Listen In Secret
Hip Hop Team Performance
Check-In
Eun Haeng Il Chi
Performance Team
Highlight
OMG
Crazy In Love
MY I (by Hoshi & Jun)
If I (Hip Hop Team)
Habit (Vocal Team)
Chuck
Rock
Final Song
Don't Wanna Cry
Encore Songs
Shining Diamond
Healing
Posted in Concert / Award, Coverage, Featured
Tags: Coverage, Malaysia Concert, Seventeen, SeventeeninMY, SVTN
« Lee Jong Suk and Bae Suzy Headline ONE Exclusive Drama While You Were Sleeping Same Time Telecast as Korea Malaysians to Do Bigger Things with Samsung's Galaxy Note8! »