August 15th, 2017
MyKpopHuntress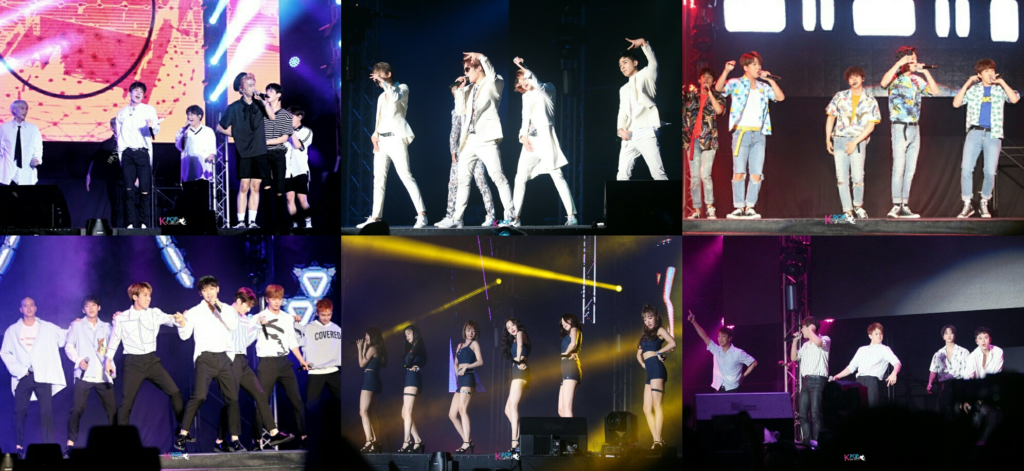 Hallyu wave continues to hit on Malaysia this time, with KWave Music Festival 2017, an event featuring top Kpop groups held at Surf Beach Sunway Lagoon brought to you by MCalls and organized by Galaxy Group. Around 10,000 Kpop fans are reported to have attended the concert. It was massive! Check out what happened during the grand scale showdown.
Victon, New Generation
A rookie group Victon, consist of member Han Seung-woo, Kang Seung-sik, Heo Chan, Lim Se-jun, Do Han-se, Choi Byung-chan and Jung Su-bin was the first group to perform. Debuted just last year, this is their first time meeting Malaysias Alice (fandom name). Performing a total of 5 song from their hits 'Eyes eyes', 'What time is it now?', 'The Chemistry', 'Amoo' and 'Allta' with what seems like an endless energy!
BtoB Belting It Out
BtoB who are well known for their powerful vocal and witty self has taken over the stage performing 'Movie' and 'Beepbeep PangPang' before greeting the fans.
Stage are shaken with BtoB singing entirely live on three songs; 'Second Proposal', 'All Right' and 'I'll Be Your Man'. We are pretty sure fans are swerving lanes left and right when they are reminded how this group never fails to impress.
B1A4 Cleansing Old Memories with Water
We wish not to recall the high criticism of B1A4 2 years ago but we cant get over the fact that Jinyoung, CNU, Sandeul, Baro and the youngest, Gongchan seem very positive and just full of joy in Malaysia. They performed all their latest songs 'Whats up', 'Lie' and 'Baby Good Night' but what etched in our mind is when all the members throwing waters around in humid Malaysia, washing away the old memories by giving a new, splashing good time!
Teentop and Bercinta
Crazy in sync dance group Teentop did a little throwback by performing their previous hits like 'To You' and 'Crazy' making everyone jumping up and down then ends their stage with their latest song 'It Is Fun' which everyone approves, they had fun! Teen Top seems to enjoy Malaysia a lot that they have posted an appreciation for the fans support and cheer in social media. They cutely wrote 'Kita bercinta anda semua' and lets be real, that simple mistake tug to the hearts more than a proper one. Well done, Malaysia's Angels!
APink and Pink Panda Doing The Most
A giant pink panda are greeting everyone outside the venue, a mark made by Malaysia's Pink Panda for them to distribute fan supports for APink, the only girl group to grace the event. Fans can be heard at every corner of the venue, chanting loudly to each songs, especially the ones that raised them to fame like 'No, No, No' , 'Mr. Chu' and 'Luv'. Trying to return the love, APink made their tasteful Malaysian remark by asking fans to reply Lemak to their Nasi shout. Someone is smitten with the meal, it seems! Its heart-warming to see both fans and idols acknowledging each other like this, here in Malaysia.
Highlights Homecoming
The latest rookie group with 7 years of experience, Highlight, greeted fans with Apa Khabar sounding very fluent as they have visited Malaysia several times in their 7 years before debut. Fitting in the summer vibes of the event, they performed 'Plz Don't Be Sad', 'Calling You', 'YeY' and 'Good Luck' all from their album. Fans cheered loudly when Kikwang update fans on their recent whereabouts, showing grand support with each of them holding a hand banner of 'Forever Together' as a pledge. Highlight ends their stage performing 'Beautiful Night' by Beast, giving fans a fresh memory to hold on.
Posted in Concert / Award, Coverage, Featured
Tags: APink, BTOB, Coverage, Hightlight, K-Wave, Malaysia Concert, MCall, Teentop, Victon
« Japanese and Malaysian Famous Artists confirmed to perform in 'JAPAN x MALAYSIA Friendship Concert 2017' [COVERAGE] Star Studded 'The Battleship Island' Gala Premiere in Pavillion, KL »