October 3rd, 2017
MyKpopHuntress
Full setlist is included at the end of post
It has been 2 weeks since ACT III : MOTTE (Moment of Truth The End) in Kuala Lumpur on 17th September, Sunday at Stadium Merdeka, but our team at My Kpop Huntress just can't seem to get over the post-concert blues it has given us!
G-Dragon, or also fondly known as GD, was intimate and personal with fans, despite his fancy and flamboyant get-ups. Malaysia was also the second country to have fellow YG artist, Dara, in his entourage after their duet together received good response from Philippines fans back in MOTTE in Manila.
Here are our 5 favourite things about GD and his solo world tour concert, 'MOTTE' :
KPOP New Classic BOPs
Anything GD has ever released are instant bops, thats a known fact. Since his first solo breakthrough in the form of the 'Heartbreaker' album, to the many collaborations he's had with other established artistes and the recent 'Untitled' album, all the songs that GD dished out throughout this concert hit us so hard in the feels. So musically talented, Mr Kwon has them skills to charm the socks off his fans, general kpop enthusiasts, and we're confident to say, any uncle or auntie you'd find walking on the street.
"This is ACT III : MOTTE, and I'm Kwon Jiyong"
GD maintained the effort to show his true self in the concert knowing the fans who were attending it mainly wanted to see him in his element, just like his first world tour, "Shine A Light". There was even a VCR of him telling fans that G-Dragon is what he is famous for, and Kwon Jiyong is who he wants fans to know him as. Awww.
Fashion and Music All At Once
As expected of kpop's prime representative of fashion, GD changed to a total of 6 outfits during the concert and it ranged from very particularly put-together pieces of high fashion brands to his own PEACEMINUSONE collection. The colour palette of mainly red, white and black captivated the audience while he was performing, and truly fitting for music royalty like GD.
English 99% Of The Time
We all know that GD is a global icon and his name penetrates even the high fashion world so English for him comes naturally. He wanted fans to understand what he was trying to convey by speaking for himself, instead of through a translator. At times he would adorably forget himself and switch to Korean before apologising and switching back to English! It's heartwarming to see how much of an effort he was making to connect to fans.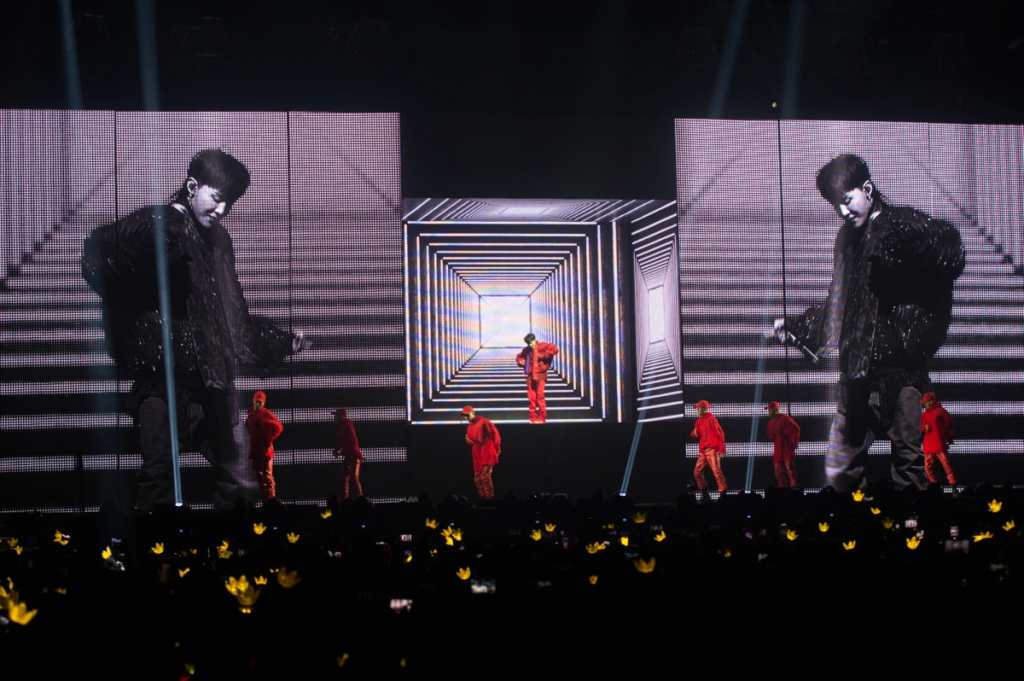 GD + Dara = More Memorable Moments
The loudest cheers were when Dara came out on stage to perform together with GD! Dara first graced MOTTE in Manila since she grew up in Philippines but to have her in KL? That was totally GD's way to hype his concert and boy were we enjoying those sweet and cute moments they both portrayed on stage for 'Hello', 'Missing You' and 'Crooked'! Fans would definitely not forget when Dara taught GD to say 'Terima Kasih' but GD replied with 'Salamat' instead!
Setlist
Heartbreaker
Breathe
A Boy
But I love You
Obsession
Michigo
One of A Kind
R.O.D
THAT XX
Black
Missing You (ft. Dara)
Hello (ft. Dara)
(Who You)
Today
Crayon
Super Star
Middle Fingers – Up
Bullshit
Divina Commedia
Encore
Crooked (ft. Dara)
Untitled, 2014
My Kpop Huntress would like to thank IME Asia for the opportunity to attend the creme de la creme of K-Pop concerts, G-Dragon's ACT III : MOTTE in Kuala Lumpur.
Posted in Concert / Award, Coverage, Featured, Uncategorized
« (COVERAGE) KPOP Sensation 2017 Lived Up To Its Name With Jessica & Kang Gary EMBASSY OF THE REPUBLIC OF KOREA HOSTS KOREAN FILM FESTIVAL 2017 »