Sung Hoon heats up the stage at Oh!K's 5th birthday celebration!
Malaysia, 23 October 2019 – I Live Alone star, Sung Hoon made a visit to Malaysia over the weekend for a highly awaited public meet-and-greet with his fans. Held in line with Oh!K's 5th birthday at 1 Utama Shopping Centre, more than 3,000 fans thronged the mall to get a glimpse of the star. Burgeoned with screaming fans, the meet-and-greet session featured a string of K-experiences including group photos, stage activities and hi-touch opportunities with the celebrity heartthrob.
Also known as 'DJ Roiii', Sung Hoon brought the house down with a special birthday segment for Oh!K. He kicked things off with a birthday song dedication to the channel and then surprised fans of I Live Alone as they finally got to witness his spinning skills live, in person. Thousands cheered on their oppa as he heated up the stage by transforming from a lovey-dovey sweetheart to his club-centric alter ego!
Being cheeky as he always is on I Live Alone, Sung Hoon effortlessly showed off this side to his Malaysian fans during the stage activities. He swept them off their feet by recording a wake-up call video for a lucky winner, took some selfies with his fans and even autographed premiums for them. He also had many up-close interactions with his fans on the ground to ensure that no one was left out.
Sung Hoon also greeted his local followers in a Facebook Live session on Oh!K's Facebook page, a few hours ahead of the fan-meeting. He shared his excitement to be back to Malaysia after two years and that he has been studying English to better communicate with his fans across the globe. This Facebook Live session recorded close to 1000 comments from excited fans.
This exciting fan meet also resulted in #SungHooninMalaysia becoming a trending topic on Twitter over the weekend. It peaked to the #2 spot remained on the top 10 list of trending topics in the country for an impressive six hours straight. Sung Hoon's visit to Malaysia was held in partnership with Astro, and was proudly sponsored by Nivea Micellar Water.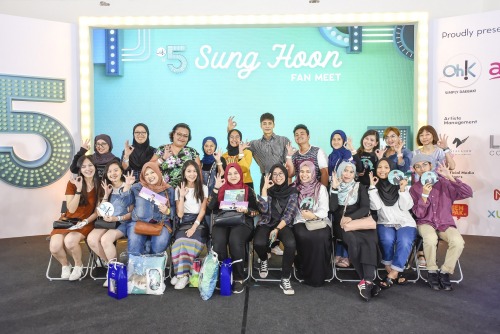 Stay tuned to Oh!K's Facebook page to be the first to receive the exclusive content of Sung Hoon in this upcoming month. Also, catch the star in a special weekend marathon airing throughout the month of October, every Saturday at 10.50pm on Oh!K (Astro CH 394). To subscribe to Oh!K, visit CH 200 via Astro PVR boxes.