tvN Asia Partners with StarHub to Bring Yeo Jin-goo to the Lion City
Singapore and Malaysia (29 August 2019) – tvN's latest talk-of-the-town drama Hotel Del Luna has dominated viewership rating charts in Singapore and Malaysia, garnering Top 3 positions for audience aged 4 or above since premiere, showing its appeal to audience in all age groups.
The latest episode (Episode 4) aired on 21 August in Singapore received a 0.997% of rating among target audience (A20-49) and 0.909% of rating among audience aged 4 or above, ranking No. 1 among all 120 StarHub and Singtel Pay TV channels; the rating among audience aged 4 or above also broke tvN Asia's very own record in 2018 and 2019 (Source: SG-TAM – strictly no reproduction, all rights reserved by IMDA).
In Malaysia, the series is ranked No. 2 among all 142 Astro Pay TV channels for its episodes 2, 3 and 4 among audience aged 4 or above; the series' highest rating moment took place in episode 2, with a rating of 2.014%, data supplied by KM Singapore. As the storyline intensifies, it is expected the rating of upcoming episodes will continue to spike.
Apart from its outstanding viewership performance, Hotel Del Luna starring singer IU and actor Yeo Jin-goo, also caught much attention and interest on the digital space, it has been crowned No 1. on the list of most buzzworthy dramas for the seventh consecutive week since its premiere. According to the ranking by Good Data Corporation (www.gooddata.co.kr) released on 27 August, Hotel Del Luna received a buzzworthy score of 33.87%, which is more than double of No. 2. Both IU and Yeo Jin-goo are also no stranger on the buzzworthy chart, they secured Top 3 positions since the hotel has begun its operation.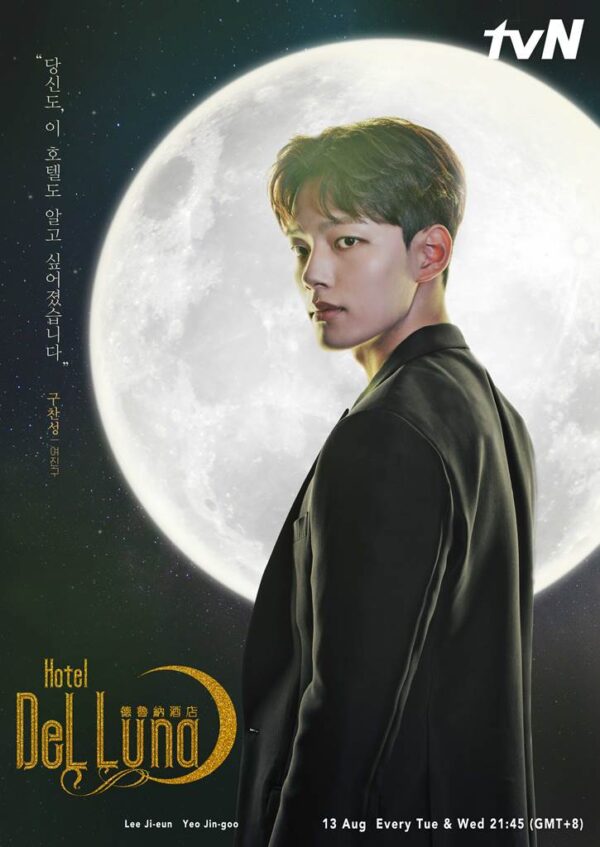 In view of the popularity and buzz the drama generates, tvN Asia, in partnership with StarHub, will soon bring in the male lead of Hotel Del Luna, Yeo Jin-goo, to Singapore to promote this viral series. Stay tuned to tvN Asia for further announcement on the Star Tour!
Hotel Del Luna is a fantasy romance drama about a mysterious hotel that is open to ghosts only. The owner Man-wol (IU), a cranky but beautiful lady who's lived for more than 1,000 years, meets a clever but weak-minded elite hotelier, Chan-seong (Yeo Jin-goo), whose destiny is to now face ghosts and run the hotel together…
Hotel Del Luna airs every Tuesday and Wednesday at 21:45 on tvN on StarHub Ch. 824, Singtel TV Ch. 518 / 619 in Singapore; and Astro Ch. 395 and unifi TV Ch. 211 in Malaysia.