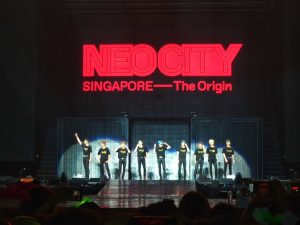 The neo-kpop band finalised their world tour in Singapore, one of the SEA stops
Three years old boy group from SM Ent, NCT 127, a combination of two components, an acronym for Neo Culture Technology with unlimited members and 127 referring to the longitudinal coordinate of the Seoul city, wrapped up their first world tour concert NCT 127 1ST TOUR : NEOCITY – The Origin as Singapore marked as their last stop for the tour.
NCT 127 1st Tour: NEO CITY – The Origin is NCT 127's first solo concert kickstarted on Jan 26, 2019 in Seoul. This NCT unit with current active members : Taeil, Johnny, Taeyong, Yuta, Doyoung, Jaehyun, Jungwoo, Mark & Haechan went on tour in 15 cities of Asia, 12 cities in North America & 3 cities in Europe. Wow, talk about work hard and play hard!
Nearly 6,000 of NCTzens fill in the Singapore Indoor Stadium, the show started with powerful opening of Cherry Bomb the English version, indeed they are the biggest hit of the stage. Followed by Come Back & Limitless, the stadium filled with high tension, loud screaming and never have we ever heard a beautiful noise as beautiful as NCT127's music.
When they were asked about what they remembered about Singapore since their first visit during HallyuPopFest last year, they chimed with how the city is very beautiful at night. Mark told a short story about when they arrived in the night, he said that he can see the pretty city lights from the airplane right before they land. Jungwoo said he wanted to go to Marina Bay Sands and Doyoung wanted to eat Chilli Crab! Hopefully he managed to get a taste of the dish before they flew back to Korea.
Known for their powerful music added with intense, uniquely-crafted choreography, the 3-hours long concert not only consisted of them singing their powerful track like Regular, Wake Up, Simon Says, Firetruck to name a few. They took another turn and display their versatility by having vocal unit made of Taeil, Doyoung, Jaehyun belting honey-like high note of Timeless with Johnny on the piano, Haechan, Yuta & Jungwoo with powerful dance break and not to forget charismatic duo rapper of the group – Taeyong & Mark with Mad City.
As the concert came to the end, the good bye were always never easy. All of them thanked their fans for the passion and limitless of support, while they promised to work even harder for better stage & cool performance. They also made a friendly reminder to never forget the memories created together with them, in between fans and also among members alike.
The boys then performed "Summer 127" and "0 Mile", that the distance between them and the fans are nil as closing, marked the end of NCT127 1st Tour : NEO CITY – The Origin.
MyKpopHuntress would like to thank ONE PRODUCTION for the opportunity to review this wonderful show.
Here is the complete song list for the concert held in Singapore :
Song list
Cherry Bomb
Come Back
Limitless
Chain
Fly away with me
Back2 U
City 127
Angel
Jet Lag
Timeless
No Longer
Regular
Wake up
Baby don't like it
Mad City
Good thing
Touch
Replay
Simon Says
Fire Truck
Superhuman
Summer 127
0 mile