On the last Saturday of March 2019, actor Park Bogum was in Malaysia for the 2019 Park Bogum Asia Tour in Kuala Lumpur <Good Day: May Your Everyday Be a Good Day>. Held at the Plenary Hall, KLCC, Malaysia is the seventh stop for his tour after concluding the shows at Seoul, Japan, Thailand, Singapore, Hong Kong and Jakarta. Being back again in Malaysia after 3 years, the actor has prepared an event full of activities and performances special for his fans. We will share some important and interesting details from the event with Park Bogum.
OPENING, RECENT TALK, GOOD DAY CLASS
Approximately at 6:00pm, the Park Bogum Asia Tour in Kuala Lumpur <Good Day: May Your Everyday Be a Good Day> started with a performance titled 'I Like You' by Day6. Dressed in a checked patterned suit, Bogum was then joined by an emcee before introducing himself to the fans. He then shared his recent activities prior to the tour which includes filming and the release of his drama, 'Encounter'.
Next comes the Q&A session with Bogum, where he answered some questions about himself, the previous tour in Malaysia and a question about future acting roles he wants to try. The audience were shown a behind-the-scene video of his 2019 Seasons Greeting and another video which he filmed himself during the shooting of 'Encounter' in Cuba.
2 lucky fans were chosen to re-enact a scene with Bogum from the drama 'Encounter' each. The actor then proceeds to the next segment where he prepared a bottle of a diffuser in front of the audience, which was then gifted to a fan chosen through a lucky draw. Bogum personally brought some gifts from South Korea for the lucky fans.
PERFORMANCES
The event was then continued with a VCR before Bogum appeared from the back of the venue while singing his song titled 'Let's Go See the Stars'. He walked around the venue before going to the stage for his next song, a cover of IU's 'Through the Night'.
After a short talk, he continued with another performance, this time a song from the drama 'Encounter' titled 'Always Be With You' by Baek A Yeon. It was then followed a ballad he sang himself from the drama 'Moonlight Drawn By Clouds' titled 'My Person/My Dearest'.
A VCR was then shown to fans which was the highlight of his last tour. The actor then appeared on the stage, dressed in a black and white patterned shirt singing to the dance track 'Bounce' by Cho Yongpil and 'Honey' by Park Jinyoung (JYP), before continuing the stage with a cover stage of The Blue's 'With You' and B1A4 Sandeul's 'Swallowing with My Heart', which is also a song from Bogum's drama 'Moonlight Drawn by Clouds'.
After a short ment, Bogum then asked the audience to stand up to enjoy and sing along to 'Entertainer' by Psy. The show then continues with a song from the show 'Infinity Challenge' titled 'Here We Are'. With the presence of a piano on stage, Park Bogum dazzles the fans with his own rendition of a local artist's popular song, 'Belaian Jiwa' by Innuendo, followed by a hyped-up performance of 'One Candle' by g.o.d.
ENCORE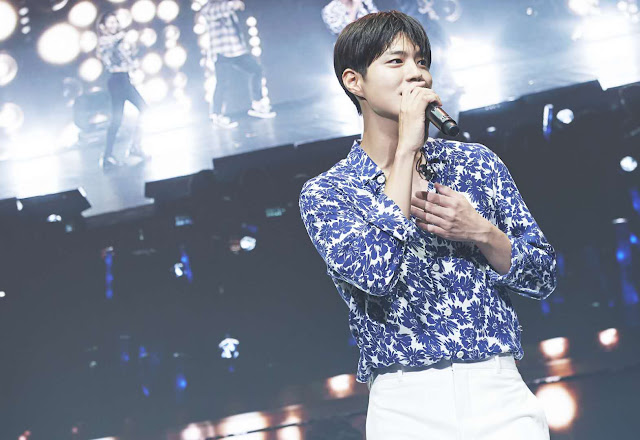 Park Bogum then came back on stage for the encore with a cute cover dance performance of 'What is Love?' by TWICE and 'Pretty U' by SEVENTEEN, then proceeding with another performance of 'What is Love' originally by Brown Eyed Girls and SG Wannabe. The show ended after one last performance of 'I Bless You' for all the attendees of the show.
The 2019 Park Bogum Asia Tour in Kuala Lumpur <Good Day: May Your Everyday Be a Good Day> is concluded after a high touch session with all attendees of the show. Park Bogum himself wrote a heartfelt letter which was given to each and every one of the attendees after the high touch session.
Following the name of the event, Park Bogum hopes everyone would appreciate the people we love and who loves us, no matter how busy we are. A day spent together with our loved ones would be a Good Day~